Whether you're celebrating with your loved ones or feasting solo, sitting with your belt unbuckled, tummy full of food, and a heart full of gratitude after a Thanksgiving dinner is a joyful tradition.
What's not as gleeful is the back-breaking work that's required to get such a scrumptious meal. And the clean-up that comes after? Oh, boy, let's not even go there.
So, why not skip the hassle of cooking and cleaning and dine-in or order take-out instead? Below are five restaurants open on Thanksgiving in Miami.
Perricone's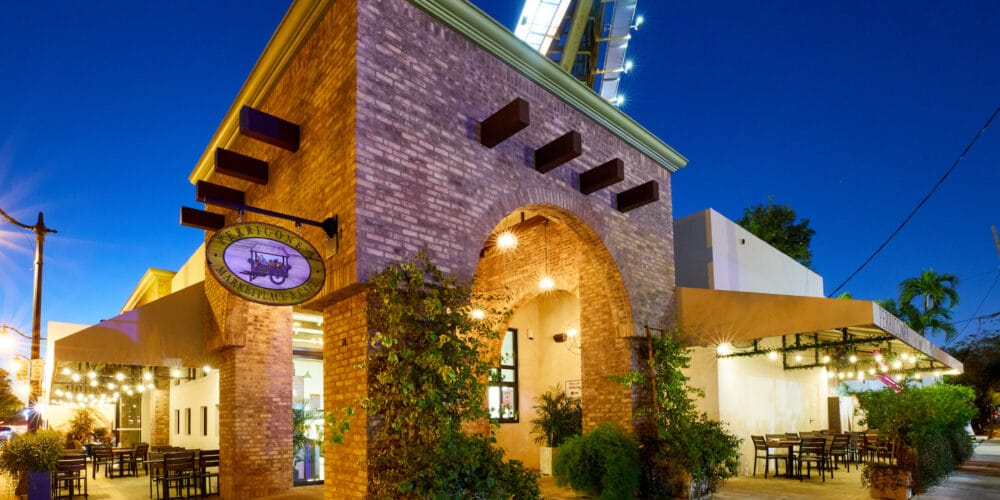 Perricone's has been providing Miami with delectable Italian-American food for over 20 years.  For Thanksgiving, you can expect the same fresh, high-quality, and mouth-watering food they once offered in Brickell but now serve at The Roads location.
You can pick up a complete Thanksgiving Dinner for ten people for $299.99. This includes a 22–24-pound turkey, cranberry sauce, stuffing, gravy, green beans almondine, your choice of regular or sweet mashed potato, one apple pie, and one pumpkin pie. If you'd like, you can add an 8–10-pound honey-baked ham for an additional $69.99.
If you'd like to dine in instead, they'll be serving their regular menu, along with specials that include a traditional Thanksgiving meal for $32.95. Reservations are strongly recommended, and no parties larger than six people are allowed.
Rusty Pelican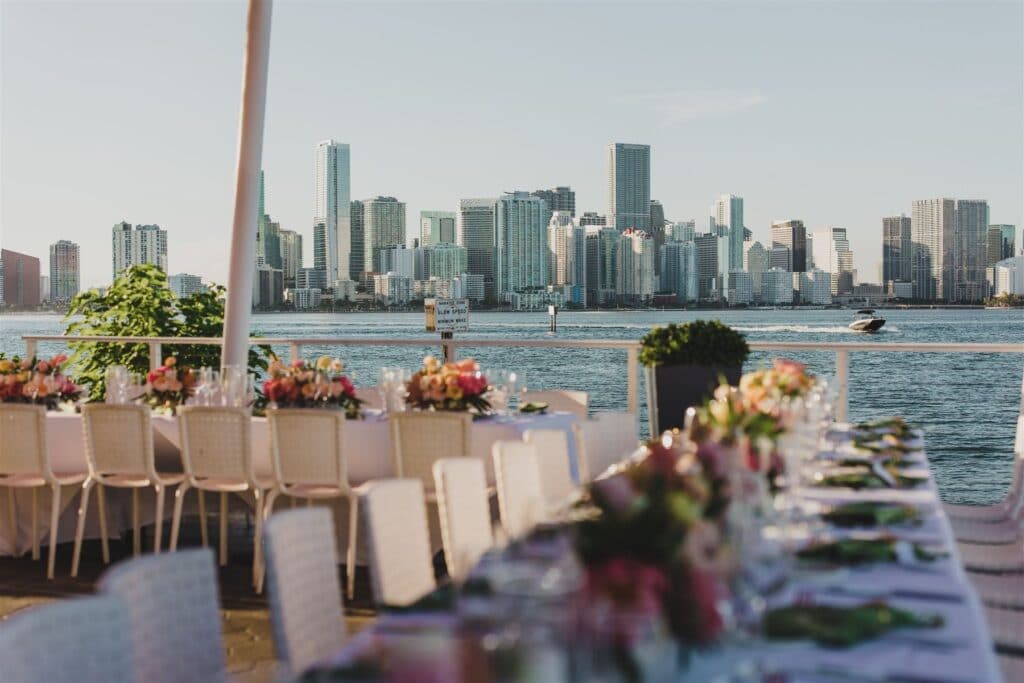 The view alone will have you feeling good, but the delicious Thanksgiving brunch and dinner menu will fill your heart (and tummy) with thankfulness.
On Thanksgiving Day, they'll be offering a Three-Course Brunch from 10 AM – 4 PM. The price is $92 for adults and $35 for children. The first course is a festive platter that includes Oysters, Crab, Shrimp Cocktail, Charcuterie, Apple Smoked Country Ham Sweet Cheesus, Seasonal Ricotta Tartine, and more.
For the second course, each guest can choose from the following options of main entrees: Crab Cake Benedict, Steak and Eggs Benedict, Fried Chicken and Waffles, French Toast, Wild Mushroom Pappardelle Pasta, Pan-Roasted Faroe Island Salmon, or Salt Roasted Turkey.
And for the third course, enjoy a dessert platter featuring Mini Pumpkin Pie, Café con Leche, Key Lime Pie, and Mini Chocolate Tart.
The A la Carte dinner includes a traditional Turkey Special and will be served from 5:30 PM – 9:30 PM.
Make your reservation here.
Toro Toro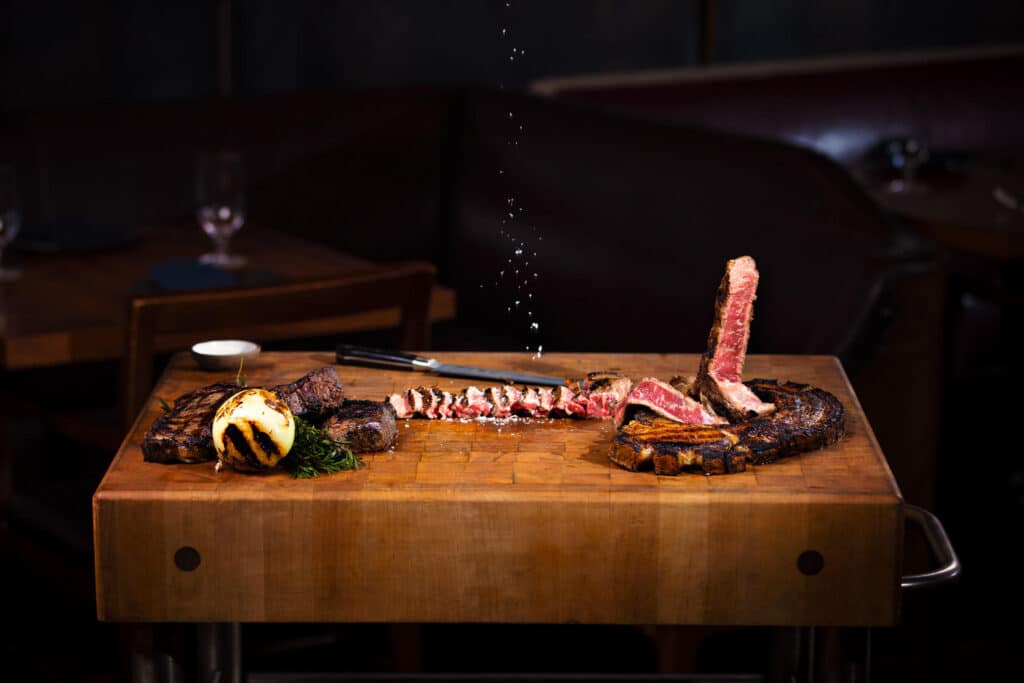 Toro Toro is perfect for those who want to add a little bit of pizazz to their typical Thanksgiving meal. Their Prix-Fixe menu will be offered from 12 PM – 9 PM and cost $79 per adult and $39 for kids 12 and under.
For appetizers, munch on Babyback Ribs, Arepas, Baby Kale, Kabocha Squash Flatbread, or Farro and Butternut Squash.
The entrée is served family-style with root vegetables, mashed potatoes, and broccolini with smoked cheddar fondue, with your choice of protein: Roasted Turkey, Bronzini Zarandeado, or Pork Carnitas Robata.
Remember to save room for dessert, as you'll have to make the hard choice of either Pumpkin Bread Cake or Spicy Homemade Pecan Pie.
Don't forget the kiddos! Their menu includes Chicken Fingers with Fries, Mac and Cheese, or a Mini Cheeseburger.
Truluck's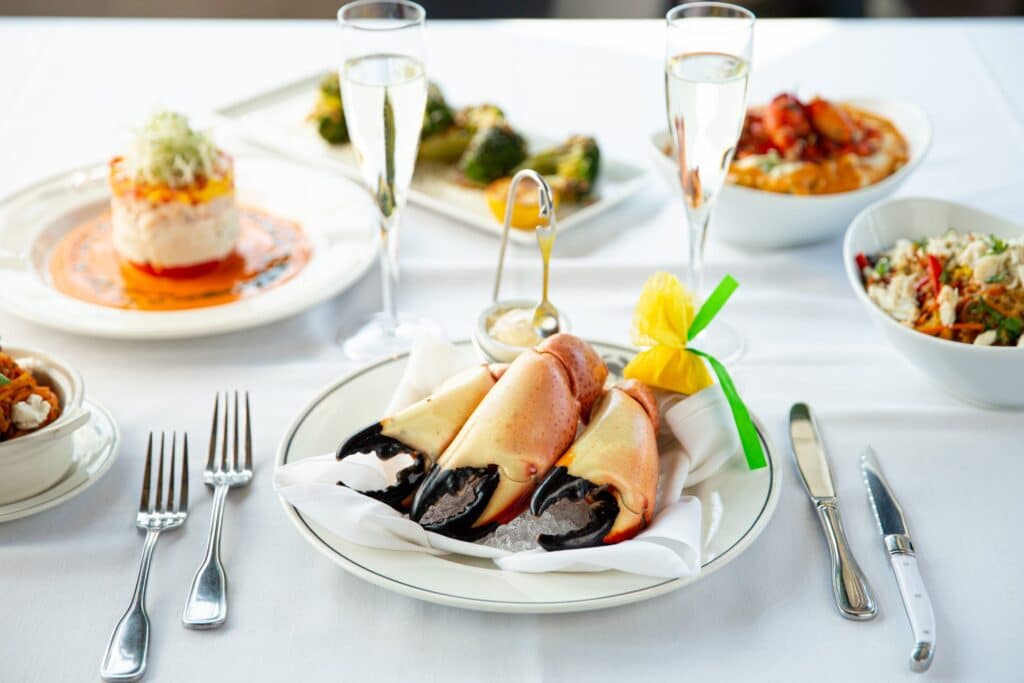 Seafood lovers will want to make their way to Truluck's, as they'll be offering their Thanksgiving Feast for dine-in or curbside pick-up.
Their dining-in Thanksgiving menu costs $59 per adult and $25 for kids 12 and under and includes Lobster Bisque, Caesar Salad, or a Sonoma Greens Salad as options for the first course.
For the second course, gobble up some Herb Roasted Turkey Breast with Parmesan Mashed Potatoes, Cornbread Stuffing, Broccoli and Rice Casserole, Giblet Gravy, and Cranberry Apple Compote.
For the third course, good luck choosing from the Southern Pecan Pie and Classic Pumpkin Pie. If you still have room for more, a plate of seconds costs $25.
Sip on Holiday Nog or Turkey Treasure for an additional $14.50.
Their curbside Thanksgiving feast must be ordered by Friday, November 19th, for pick-up on either Tuesday, November 23rd, or Wednesday, November 24th. For $300, the order will come with step-by-step video instructions from the chef and requires at least three hours of cook time.
Fleming's

Steak on Thanksgiving? Why not?
If you want to skip the turkey and devour a good, ol' hearty steak instead, Fleming's Prime Steak House and Wine Bar has you covered. They'll be open from 11 AM on Thanksgiving Day and will be offering the full dinner menu. And if the turkey is a must for guests in your party, they'll also be offering Herb-Roasted Turkey for their three-course Thanksgiving menu.
The Thanksgiving meal can be enjoyed at the restaurant or can be ordered for pick-up or delivery.
For starters, take your pick from Fleming's Salad or Lobster Bisque.
Petite Filet Mignon, Prime Bone-In Ribeye, or Mixed-Herb Roasted Turkey Breast and Turkey Gravy are your choices for entrees with mashed potatoes, cinnamon-orange infused cranberry sauce or green beans and onions to share.
And last but not least, choose from carrot cake or Harvest New York Cheesecake for dessert.
Have a Happy Thanksgiving!
Whether you want to stick to a traditional meal or prefer to feast on steak or seafood, the possibilities are endless for Thanksgiving dinner in Miami. Dining-in or ordering take-out is a perfect option for those who want to skip the cooking and the cleaning. Plus, it'll give you more time to be thankful. And hey, if you order take-out, you can even pretend you cooked it all yourself. Don't worry. We won't tell. Just don't forget to get rid of all the evidence.
We hope you have a Happy Thanksgiving!